Scottsdale Center for Plastic Surgery
5410 North Scottsdale Road A-500
Paradise Valley, AZ 85253
Phone: (480) 423-1973
Monday-Friday: 8:30 a.m.–5:00 p.m.

For Men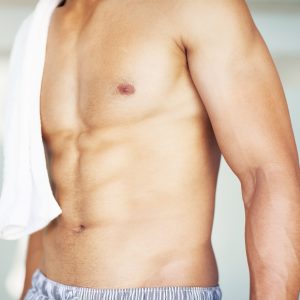 In Phoenix and Scottsdale, Arizona, there are many reasons cosmetic surgery has been increasing in popularity for men. Many of our male patients have expressed a desire to rejuvenate their facial features so they can remain competitive in the workplace. Other patients were frustrated with diet- and exercise-resistant fat, and wanted body contouring to improve their physique and maximize the results of their workouts. Finally, many men are unhappy with the shape of their noses, the prominence of their ears, or the "weakness" of their chins and wish to pursue facial sculpting to increase the attractiveness of their facial features.
Many men also complain of excess fat on their chest, giving them a feminized appearance. This problem is called "gynecomastia," and can be a significant source of embarrassment. we are able to correct this problem with power-assisted liposuction and/or direct excision of the excess breast tissue.
Body contouring plastic surgery for men is also somewhat different. As opposed to women, who tend to complain most about the hips and thighs, men generally complain of the abdomen and love handles. This is because there are frequently gender related differences in fat distribution. With men, our surgeons tend to perform surgery that will enhance their muscular appearing physiques. For example, with carefully applied liposuction, we can narrow the waistline and can enhance the appearance of a "six-pack" abdomen via "abdominal liposuction."
Every facial rejuvenation and facial sculpting procedure available to women is also available to male patients. Obviously, when we perform facial surgery on a man, our goals are quite different, as men generally do not want their faces "feminized." This means that we do not try to arch the brows or slim the nose too much. Men tend to want straighter, stronger, more angular facial features than women do, and the techniques are altered to accommodate these objectives.
Take the Next Step
The days of plastic surgery as a "women-only" pursuit are over, as more and more men realize that looking their best can boost their confidence, motivate them to exercise more, and help them feel their best.
Receive a cosmetic consultation, or call (480) 423-1973 to schedule a consultation with Dr. Robert Cohen or Dr. Steven Sigalove. Your surgeon will be happy to answer any questions you may have about plastic surgery. Board-certified plastic surgeons Dr. Cohen and Dr. Sigalove welcome patients from all over Arizona, as well as other states and countries. Their facility is conveniently located in the region of Scottsdale, Phoenix and Paradise Valley.
Back to Top