Scottsdale Center for Plastic Surgery
5410 North Scottsdale Road A-500
Paradise Valley, AZ 85253
Phone: (480) 423-1973
Monday-Friday: 8:30 a.m.–5:00 p.m.

Fat Grafting
As a truly cutting-edge plastic surgery procedure, fat grafting offers multiple benefits for our Phoenix and Scottsdale surgery patients. During the procedure, Dr. Robert Cohen or Dr. Steven Sigalove removes fat from unwanted locations via liposuction (common areas include the love handles and thighs). Then, they process and refine the fat, reinjecting it into areas of the body that need more volume, typically the breasts, but this can also include the face, buttocks, or anywhere more fat is needed. The benefits of fat grafting are significant, and this procedure has become an increasingly common adjunctive procedure for our patients over the past few years.
To find out if natural breast augmentation with fat transfer at our practice serving Phoenix could help you reach your cosmetic goals, please request a consultation today. You may also call us to schedule an appointment at (480) 423-1973.
Understanding Fat Grafting

There are 3 primary aspects to a successful fat grafting procedure: harvesting the fat, processing it, and reinserting it into a new area of the body. Our surgeons begin by removing the fat from the areas where the patient no longer wants it, using power-assisted liposuction to extract it in a way that minimizes bruising and downtime.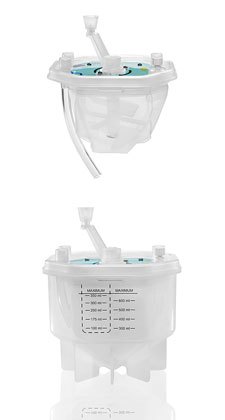 Rather than discarding the fat, it is processed for reinjection. To do this, the liposuction tube is connected to the REVOLVE™ System or the Puregraft System. This devices provide a sterile environment for washing the fat, where the fat is never exposed to the outside environment to maintain viability and sterility. Using Lactated Ringers solution (similar to saline), these devices gently separate the fat from any fluid waste, fibrous strands, and other impurities, allowing extraction of the purest and best fat cells.
With the fat purified and clean, syringes are connected to the fat harvesting systems, and pure fat is drawn up for injection. This fat is then injected via a small cannula into the recipient sites where the patient is looking to add volume. Fat is injected in thin streams (also called threads) to maximize blood flow to the grafted fat, which encourages the body to "take" more of it and assimilate it to the recipient site. The beauty of the Puregraft and REVOLVE devices is that they are closed systems that maximize sterility, while also being simple systems that allows quick processing time to minimize the time the fat cells are out of the body.

Who's a Good Candidate for Fat Grafting (Fat Transfer)?
We all have fat — and because it's a soft material that is found in the body already, it can be an excellent way to add volume to the breasts and deliver a natural-looking result. In our experience, good candidates for a breast fat grafting procedure meet these 2 main criteria:
They have excess or unwanted fat that is available for harvest.
They would like to have additional volume added to a body or facial area. In our practice, this most commonly is performed to provide fuller upper breasts with a breast lift or to add additional soft tissue padding to improve the results of a corrective breast surgery.
Occasionally, we do see patients who have insufficient fat to harvest for fat grafting because they are very thin. This is the main criteria that would make a patient ineligible for a procedure; beyond that, we evaluate each patient in person to make sure the procedure is the right path forward.
Modern Beauty
See Dr. Cohen on Modern Beauty, a series on the Style Network.

Watch Now
What To Expect
In our initial consultation, your surgeon will ask you about the areas of your body you would like to address, as well as your ultimate goals. At that point, he will offer a candid assessment of whether fat grafting is the right choice. Assuming it is, on your day of surgery we'll begin by preparing both the fat donor and fat recipient sites on your body. You'll then be given a general anesthetic. From there, your surgeon will proceed with power-assisted liposuction of the donor sites and fat grafting into the recipient site, often in combination with a breast lift or revision.
How Long Does It Take To Recover From Fat Grafting?
For specific information on the recovery process following a fat grafting procedure, we encourage you to read through the Post-Op FAQ. It includes information on postoperative concerns, such as how to take care of your body, when to return to work, and when you'll be able to return to normal physical activity. Generally, the donor sites (where the fat comes from) will heal just like regular liposuction sites. The recipient sites (where the fat goes), rarely have much pain, but there can be some temporary swelling or bruising.
There are some risks specific to fat grafting, including oil cysts, firm nodules at the recipient sites, and resorption (the fat is absorbed by the body, rather than grafting to the area where it's injected). However, we're happy to report that, thanks to the quality of the Puregraft and REVOLVE Systems, these issues are extremely rare with our patients, and find that approximately 60-70% of the fat that is injected stays put. Patients are often amazed at how much the additional fat padding can help with the aesthetics of their breasts or other body or facial areas.
Frequently Asked Questions
Do you have to have extra fat to do this breast augmentation technique?
Yes. Patients need enough fat to be harvested, purified, and used for the procedure. Occasionally, we see very thin patients who do not have enough fat to harvest for fat grafting, making them ineligible for a procedure.
Does fat transfer to breasts last?
The transferred fat that establishes a blood supply lasts indefinitely.
How many cup sizes can you get with fat transfer breast augmentation?
Fat transfer is best for small volume increases in breast size, equivalent to a 100 to 250 cc implant.  (A bra cup size is approximately 175 cc.)
Do fat transfer breasts feel natural?
Yes. The transferred fat is soft and pliable, just like your natural fat.
To see how fat grafting could work for you, request a consultation with Dr. Cohen or Dr. Sigalove today. Your surgeon will be happy to walk you through everything in person.
Back to Top