We are proud to announce we are now offering the newest alternative to Botox to our Scottsdale patients. Jeuveau (pronounced Ju vo) is nicknamed NewTox and is inspired from the French word "nouveau" which means "new" or "modern." Jeuveau was created by Evolus, an established pharmaceutical company based in Southern California. Evolus aimed to bring a hot, fresh product to the market in hopes to appeal to the softer side of aesthetics, as it is the first aesthetic only neurotoxin approved in the United States.
Got glabellar lines? Well, Jeuveau can turn those frown lines upside down! The newest FDA approved injectable treatment is made to temporarily improve those irritating little wrinkles between your brows.
So really what's the difference between Jeuveau and Botox? Is it really going to be able to compete with Botox? Time will only tell, but it was specifically intended to be considered the designer Botox. Jeuveau and Botox both work as neuromodulators by preventing your nerves to tell your facial muscles to flex, just made by different manufacturers. Think of it as Coke vs Pepsi. Some patients may find themselves to prefer one over another, so we encourage our patients to try both!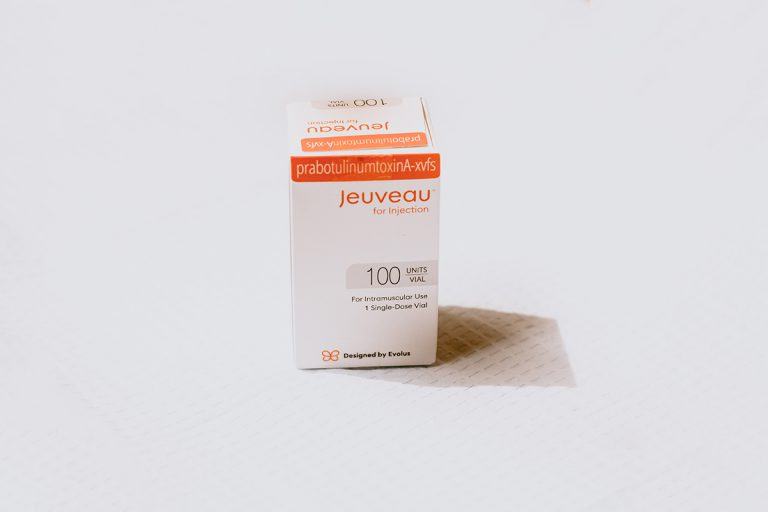 How much does Jeuveau cost?
Jeuveau, like other brand name toxins, are priced based on the number of units used on the patient. The cost of treatment is similar to Botox, Dysport, and Xeomin. Prior to undergoing treatment, we will discuss pricing with you at your consultation.
How long does Jeuveau last?
Jeuveau, similar to Botox, typically lasts for 3-4 months. The duration of effect is dependent on each individual. This is due to the differences in each individual's muscle mass and metabolism. In 2 long-term safety studies, patients received an average of 3 treatments over a course of a year.
What are the side effects of Jeuveau?
The most common side effects include: headache, muscle weakness, vision problems, dizziness, eyelid drooping, upper respiratory tract infection, and increased white blood cell count in your blood.
Can I have Jeuveau if I have previously had Botox, Dysport, or Xeomin?
The answer is yes! You are still a candidate for Jeuveau if you have previously had another neurotoxin.
If your interested in trying Jeuveau, contact us online or call (480) 423-1973 to schedule a consultation. Find out today if you are a candidate for this new and exciting treatment!